Follow these steps to revoke an active license for your Vicon software. There are a few situations in which you want to revoke a Vicon product license:
You are decommissioning a PC that is currently holding a license seat
You are planning to move a current license to another PC
A different type of license is needed for your organisation, such as changing several standalone seats to a pool of network license seats.
Please remember to revoke any unused license seats. Requests for new licenses may be delayed in situations where the corresponding license revocation file isn't available.
To revoke a currently active license, please follow these steps:
Open the Vicon Product Licensing application on the PC that is holding the active license.
Select the license to be revoked from the list in the top section of the window
Click on Revoke License… at the bottom-middle of the window
Save the license revocation file and send it to our support@logemas.com email address
Logemas will confirm the license revocation with Vicon so that the license seat becomes available again for use with a different PC.
When transferring licenses, the quickest way is if you can send us both the revocation file and new license request at the same time. We can then typically return the new license within 24 hours.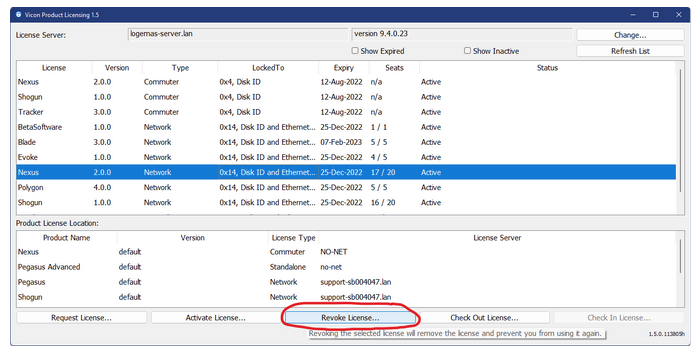 IMPORTANT: Once the license is revoked there is no way to undo this action. Please make sure you only complete this process once you are no longer using the license on the PC.
There are a few things to know about license seats and transfers:
Transferring a standalone license from one PC to another is quite simple. If you have your new PC set up, send us the license revocation file from the old PC and the license request from the new PC. This helps us to speed up the process and return the new license activation file to you quicker.
Temporary licenses cannot be revoked to become available again. They will expire after the timeframe set when it was created.
Adding or removing seats from a Network license requires revoking both the standalone license and the network license, then re-issuing with the new numbers of license seats on the network license.
It is possible to revoke the unwanted license if you've forgotten to get the official file. However, we have to determine which is the appropriate locking code information to remove, which can take significantly longer than when we have that information available in the revocation file.