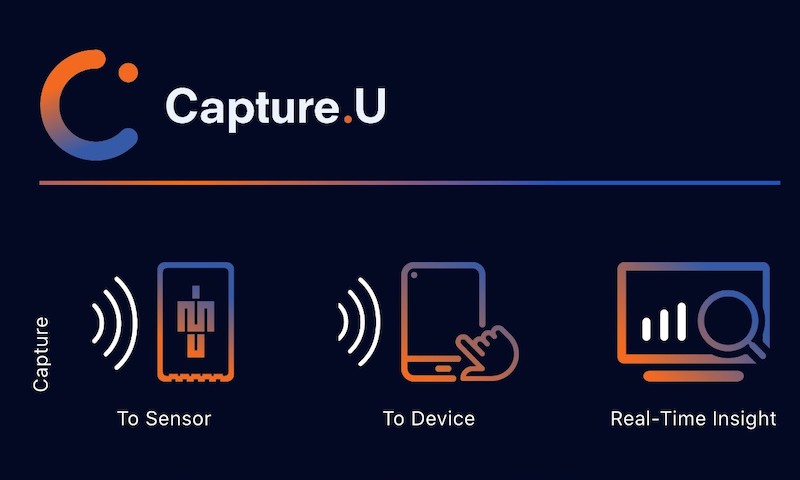 This article is provided to quickly give you an overview of the three different capture methods available on the Capture.U iOS app. Please take into account your data capture requirements when choosing your capture method!
Considerations for your data capture:
Actual sample rates may be slightly different from the advertised data sample rates. If highly precise sample rates are required, for example for sensor fusion or across a long capture, please consider calculating the actual sample rate from the timestamps in the data from your unique sensors.
The reference video is not specifically synchronised to your data. This is due to a limitation in controls the iOS allows for device cameras. If you require a sync, please talk to us about how you can use the sensors and videos to create sync events which can be used to align your data in post-processing.
Capture to Sensor
Strengths:
Highest possible capture rates (1600 Hz for high-g, 1125 Hz for low-g and gyroscope, 100 Hz for magnetometer)
Sensors only have to be in range for start/stop capture, including swimming
No chance of data loss during transmission
Best battery life (not transmitting data)
Capture to 20+ sensors
Considerations:
Requires connection to PC to download full dataset
Large data files
Capture to Device
Strengths:
Instant post-trial access to data on device
High capture rate (800 Hz for high-g only or low-g only, 500 Hz for low-g and gyroscope, 250 Hz for low-g, gyro and magnetometer)
Up to 14 sensors
Considerations:
Sensors must remain in range for duration of capture
Have to choose between high-g and low-g/gyro/magn
Capture Real-Time Insight
Strengths:
Instant view of data from either one or two sensors
Reference video overlay
Can set a threshold/benchmark value for biofeedback
Output a PDF report with simple statistics and graph
High capture rate (800 Hz for high-g, 562 Hz for low-g and gyroscope)
Considerations:
Sensors must remain in range for duration of capture
Limited simultaneous data collection – choose between high-g, low-g or gyroscope
Maximum two sensors simultaneous capture per iOS device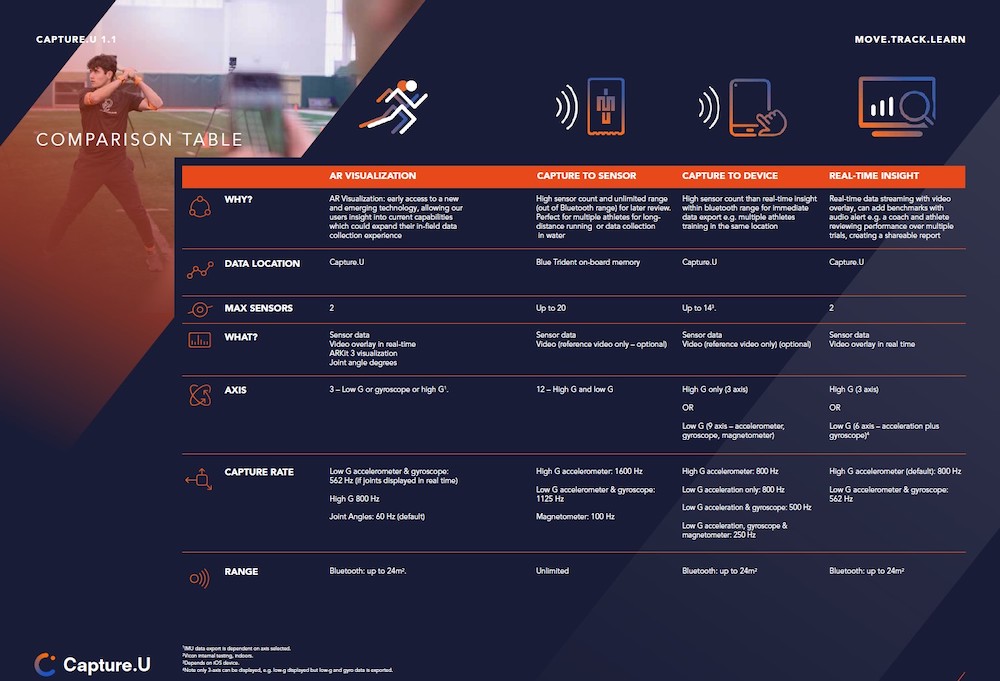 Table taken from the Vicon Capture.U Factsheet (direct link)