Recently started to Work From Home?
Vicon announced they are providing temporary licenses to enable users to work from home, and there are a couple of other things to consider when setting up your home PC or laptop for Nexus use.
As always, if you require assistance with anything here, please get in contact with us via hello@logemas.com or on our socials (Twitter and facebook).
License Requesting
AU/NZ @Vicon users, please get in touch with us either here via DM or at hello@logemas.com if you'd like to take advantage of this offer 🏡#StayHomeAustralia #StayHomeNZ #StaySafe https://t.co/zA9NNFuzef

— Logemas (@Logemas) March 25, 2020
Quick Summary:
Generate a 'Request License' file

and send to

hello@logemas.com
Vicon Nexus doesn't require a supercomputer to operate, but like any software the more hardware resources that are available the smoother the experience will be. Vicon provides recommended specifications for a capture PC (i.e. the beefy lab PC which operates the system), but these specifications aren't necessary for offline processing. Nexus will operate well on most PCs/laptops under a few years old, though there are a couple of things to consider:
Windows 10 (up-to-date with updates) is the only fully supported operating system (sorry Mac users). Windows 7 can run Nexus but may not be as smooth an experience. 

The graphics processor, which is explained in more detail below.
First things first: if you'd like to set up your home PC or personal laptop with a temporary license, download the Vicon software you wish to run and install it (be sure to decompress the downloaded folder before running anything). Each major software download package comes with a number of files, ensure you run the 'Vicon_[Program]_Setup.exe' to ensure all components are installed.

Once the software is installed, we're going to ask you to generate a license request file. This is a little XML file that contains unique information about your PC to inform the license generation. We've created a guide here to help you out. Once you have the license request, send it to us at hello@logemas.com and we'll be in touch! 
(Once you have your license file from us, here is how you activate it).
Graphics Card Compatibility
Vicon software has been developed and is fully supported for use only with NVIDIA graphics processors. Similar to the OS requirements, this isn't to say that the software won't work with other graphics processors, but it can't be guaranteed. You can check your graphics card by typing 'Device Manager' into your Start Menu, and expanding 'Display Adapters'.

If the listed device is an Intel Graphics processor (very common), there is a possible workaround, which Vicon have provided directions for here. This requires the download of an additional file (OpenGL), which can be found here on the Vicon website.

Other Home Troubleshooting
Blank Communications Window
If you've installed Nexus and received your temporary home license, but open it up to find that the communications window is blank, it could be a couple of issues. 
First, go back into your install folder and run the ProEclipseInstaller.msi. This will install the standalone Eclipse program which is Vicons data manager. Occasionally during a full program install, this step can be skipped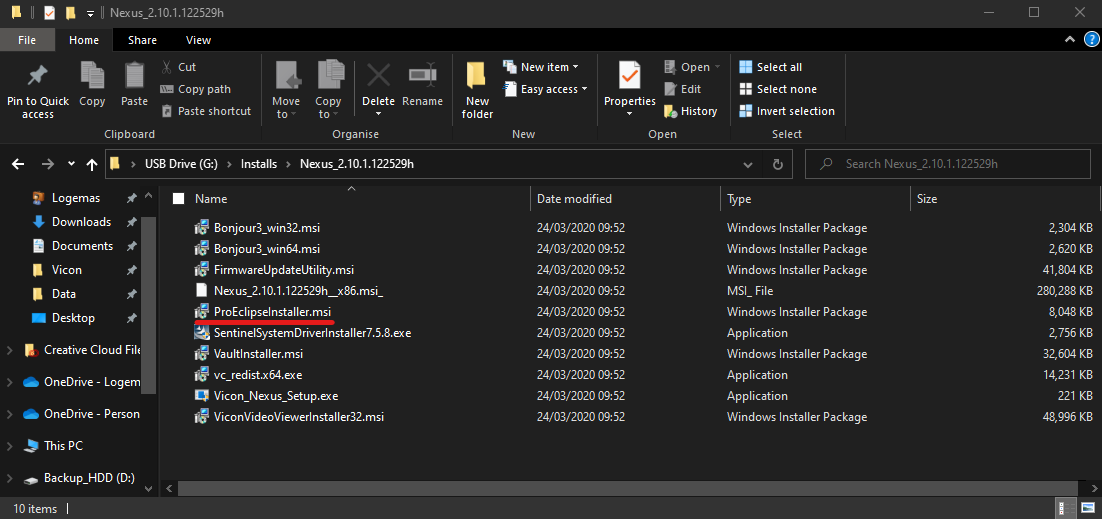 MATLAB Integration
For MATLAB to communicate with Nexus, two things are needed: