Six Months since launch what do you need to know.
It has been just over six months since Vicon released the Blue Thunder sensor to the world. Recently a point update was released covering the Trident related products, enabling some key features, so now seems like the right time to have a summary/recap of everything that has happened so far!
Vicon Blue Trident Sensors
The Blue Trident sensors now have a firmware update available (version 9.0.4). Sensor firmware can be updated using the latest version of Capture.U. Simply plug each sensor into your PC via the cradle and USB and the app will prompt the update!
This new firmware update allows you to use the Trident sensors within Nexus – a much-used feature of the Blue Thunders that wasn't available at the initial release of the newer sensors.
Blue Trident data capture within Nexus is possible by live-streaming data at a low sample rate (~30-50 Hz, depending how many sensors there are), whilst simultaneously recording onboard data at the maximum capture rate for each component (up to 1600 Hz). You can live view the streaming data and use it to construct monitors or in the data stream. The sample rate remains a limitation of Bluetooth bandwidth, but on the plus side, you can connect up to 18 sensors at a time! After the session, plug in the sensors via USB and download the full data set to your Vicon Nexus session folder. The data is named, synced and ready to go!
Synchronisation with a Vicon motion capture system is now possible in two ways:
Soft sync – via Bluetooth, all that is required is a capture PC with Bluetooth capabilities (or a $30 Bluetooth USB dongle). Whilst not as precise as the hard sync option, this method and the ease of use will be exactly what most users are after.
Hard sync – via radio frequency, this method requires an additional piece of equipment, a Vicon Beacon. The Beacon allows for contact with the sensors via radio frequency – a more precise and reliable method than Bluetooth – to provide a 'hard sync' with the Vicon system timecode.
IMU integration with Nexus now goes beyond data sync. Now you have the ability to calibrate your Blue Tridents into the Nexus world, aligning the Blue Trident frame of reference to the optical system. This also allows the streaming and collecting of global IMU orientation and rotation (outputs include quaternions!). Calibration requires clipping each sensor into the calibration wand and performing a short wave. Once we get our hands on some sensor clips we'll let you know how it goes!
Capture.U (Windows Desktop App)
The desktop version of Capture.U received a minor update, to version 1.1.1. This version is required to perform the sensor firmware update to version 9.0.4. The interface has also received a few small tweaks, including the ability to export a single .csv from each sensor containing all component data (previously three .csv files were output per sensor per trial, one for each component). On the data export page, ensure you select the 'Aligned CSV' option. There is also now an option for exporting data in X1D format.
Capture.U (iOS app)
The Capture.U iOS app received an update to version 1.1. There is one major feature addition in the latest update: augmented reality. This feature leverages the Apple ARKit 3 to provide powerful data processing and feedback features for your motion analysis, right on your phone. Check it out here: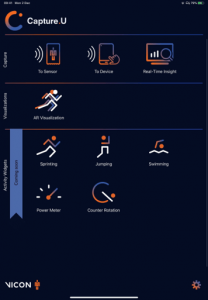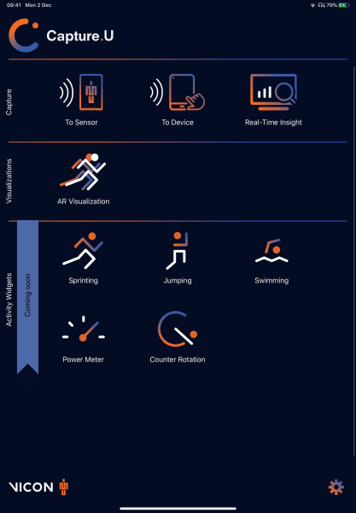 If you would like to discuss Blue Tridents or anything motion capture, we're always available at hello@logemas.com or on (07) 3121 3290.
Happy capturing!